Toyota Recognizes 20th Mother of Invention At Women In The World Dallas Salon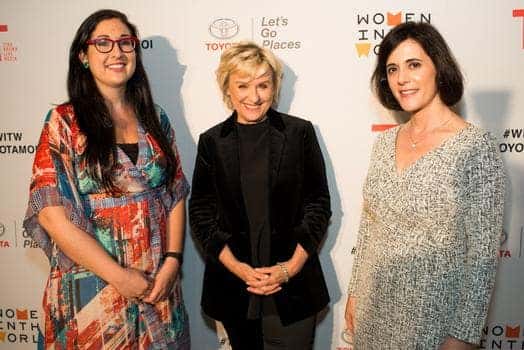 Toyota Mother of Invention Maxeme Tuchman, Tina Brown and Toyota's Lisa Materazzo at the Women in the World Dallas Salon.
PLANO, Texas, December 6, 2017 – Toyota isn't just about making great cars, the company is also committed to charity work that helps improve the lives of people worldwide, including sponsoring the Women in the World Summit since its founding in 2012. And over the last six years, Toyota has donated $1 million to nineteen different women-led companies through their Mother of Invention series, which recognizes and honors innovative, entrepreneurial women who contribute to not only their communities, but also the world through creative invention.
At this years Tina Brown Live Media Women in the World Dallas Salon, Maxeme Tuchman was honored as Toyota's 20th Mother of Invention (MOI). Tuchman was recognized for creating a groundbreaking education platform called Caribu, which helps parents and guardians read and draw with their children when they can't be together. Caribu is used by many parents who need to travel for business, work late hours, or those who are serving overseas in the military. The Caribu platform features a livestream shared-screen experience, where users have access to hundreds of books in multiple languages.
"Toyota is honored to support and celebrate female pioneers who are driving positive change in the world," said Vice President of Toyota Vehicle Marketing and Communications, Lisa Materazzo. "Through their creativity and determination, they are solving daily challenges to improve society and enrich the lives of millions."
Recently, the past Toyota MOI have come together to create products that help aid hurricane relief efforts, including the DayOne Response, a 2.5 gallon water filtration bag invented by Tricia Compas-Markman and Amy Cagle, and LuminAID, a lightweight, portable solar-charged lantern invented by Anna Stork and Andrea Sreshta. To read more about these remarkable women, or to nominate one, visit the Toyota Mothers of Invention website.